NSW Order of Malta To Provide Community Health Care to City's Poor, Sick & Homeless
21/05/2015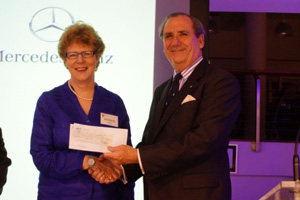 Pictured: Chairman of the Order of Malta NSW Branch David Hall presents cheque for Gorman House to Bronwyn Crosby, Deputy Director of St Vincent's Alcohol and Drug Service
A new initiative by members of the NSW Order of Malta will begin delivering much-needed community healthcare to the city's poor, sick and homeless from a fully-equipped and staffed mobile van on a twice weekly basis from 15 June this year.
The Order of Malta will provide drivers and volunteers for the new service while a partnership with St Vincent's Hospital, Darlinghurst will be responsible for the van's teams of skilled trained nurses and healthcare workers bringing healthcare to those struggling and on the margins.
The newly-equipped Order of Malta NSW Community Care Van, as it will be known, will be unveiled on Wednesday at a special presentation when David Hall, NSW Chairman of the Order will give thanks for what he calls "the big-hearted generosity of Greg Sanderson and the Sanderson family."
The van along with its custom-fit out has been donated by the Sanderson family of Sanderson Motors fame.
"The donation of the van by Greg and the Sanderson family is remarkable in its generosity and much appreciated by all of us," says David Hall adding that the NSW Chapter of the Order began discussions about establishing a community care van about 12 months ago.
"Our Order operates community care vans in France and the UK where they tend the homeless, the sick and the poor, and we were keen to do the same," he says.
After discussions with David Scarf AM, the Order's Ambassador to Timor-Leste and the man who designed the NSW branch's now famous "coats for the homeless," Chairman David Hall sought the advice of fellow member and long time friend Greg Sanderson.
"I knew he dealt in high-end motor vehicles but thought he could steer me in the right direction of who best to approach, who could tell me what sort of van we might need and how to go about acquiring it," David Hall says. "But almost before I had finished speaking, Greg said: 'don't worry about talking to anyone else. I'll look after that for you!"
David Hall then began discussions with Associate Professor Anthony Schrembi, CEO of St Vincent's Health Network Hospital about staffing the van with trained nurses and healthcare workers and received immediate support.
While many of Sydney's homeless and those living in poverty have access to hot food, soups and hot drinks through long-running initiatives such as the St Vincent de Paul Society's Night Patrol or the St Canice's Kitchen at Pott's Point, Fr Chris Riley's Youth off the Streets and Vinnies' Matthew Talbot Hostel, there is little in the way of community care for those doing it tough.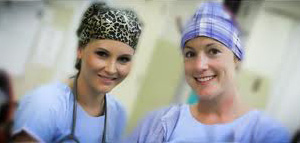 Pictured: St Vincent's Hospital Darlinghurst joins forces with NSW Order of Malta to deliver health and community care to the city's poor, homeless and in need
"The work of organisations and volunteers who provide food and in particular hot nourishing meals during winter to those in need is fantastic," David Hall says. "But what is also needed is health care and first aid, particularly in areas outside the CBD that are currently not well serviced such as Parramatta and Western Sydney."
The mobile van will visit different parts of Sydney on a regular basis so that those needing care, advice or first aid, help with skin or other problems triggered by exposure, treatment of cuts and abrasions will always know that the van will be in a particular area on a certain day each month. For those who are ill or whose health problems need further specialised care will be transported by van to the nearest hospital emergency room.
Once the Sydney mobile van service is up and running, the Order of Malta's NSW branch plans to expand the mobile initiative not only to outer Sydney but to regional towns and cities across the State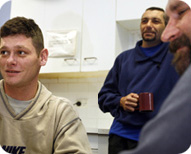 Pictured: Members of the Order of Malta have donated more than $1.3 million to Gorman House
Dating back more than 900 years, the Sovereign Military Hospitaller Order of St John of Jersusalem, of Rhodes and Malta, to give the Order of Malta its full name, was founded to "care for the sick and poor without judgement, distinction of religion, race or political persuasion."
"This is still our mission," says David Hall.
With just over 100 members, the Order of Malta's NSW Branch is unstinting in its support of the poor and vulnerable. Over the past eight years, members have raised well over $1.3 million for Gorman House, the residential detoxification unit at St Vincent's Hospital, Darlinghurst which treats more than 1500 men and women battling addiction each year, many of whom are homeless. St Joseph's Hospital's Palliative Care Unit also receives support from the Branch which provides funds for medical aid and equipment not covered under normal health care budgets, such as morphine pumps or the refurbishment of quiet rooms families and their loved ones.
In addition, since 2013 the Branch has given away more than 2000 specially-designed coats to the homeless, with a further 1500 of these coats set to be distributed via the Order of Malta's Community Care Van this winter.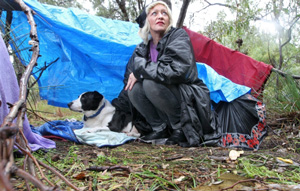 Pictured: This winter the NSW Branch of the Order of Malta will give away 1500 weatherproof lightweight warm coats to the city's homeless
What started as an NSW initiative has now gone national with many thousands of the coats given free of charge to the homeless each year.
Designed after consulting extensively with residents of St Vincent de Paul Society's Matthew Talbot Hospital, the coats are quilted for warmth, come with a hood, are showerproof and light enough to be easily carried or stowed. The coats also come with hidden pockets to protect what few valuables the homeless person may have and are purposely made up in black to prevent wearers standing out in a crowd and becoming targets of physical violence or theft.
Find out more about the Order of Malta NSW branch 
You can donate to assist the NSW Branch Charitable Works by:
– Direct Deposit: BSB: 012 003 Account#: 3796 09856 Name: Order of Malta. Please email remittance to accounts@orderofmalta.org.au
– By Post: Cheques payable to 'The Order of Malta' and sent to: NSW Charitable Works, The Order of Malta, 33 – 37 West Street, Darlinghurst, NSW 2010
Donations $2 and more are of course tax deductible